Embrace Fertility means celebrating becoming pregnant, creating a family; growing a family tree. More than anything, each and every day, we want this for our clients, whichever way it comes to them. Embrace also means to hug. It is what we do with our partner, our children and our loved ones. An embrace is how people conceive, how they persevere when trying to conceive, how hope continues when the journey has been long. Finally, sometimes people under our care need to be embraced, figuratively held when things haven't gone to plan, when there is a lot to lose, when fear outweighs joy, when a phone call makes all the difference.
These were our reasons for choosing Embrace Fertility in Adelaide as a name. However, each person who chooses to come to Embrace Fertility will attribute a different meaning, and after all a name is just a name. How hard we work to use our knowledge, experience, and care to help you conceive and have an ongoing pregnancy is what matters. We want you to see and experience this when you meet us. Each fertility doctor uses their own signature to commit to providing the best care they can. We want the hope and care in the Embrace Fertility name to truly reflect what we do in practice.
Gynaecologist / Fertility Specialist
Professor Louise Hull is an Adelaide fertility expert with global experience, a passion for what she does, and a determination to seek out and utilise the best fertility treatments available today. A qualified gynaecologist (MB ChB (Otago), FRANZCOG), Louise has the top specialist qualification in fertility (CREI). This means she has experience looking after people with complex fertility needs and the ability to collaborate with a network of fertility specialists nationally and internationally to optimise your care.
As a Professor in reproductive medicine with a PhD from Cambridge University, research has always been part of Louise's fertility work, enabling her to critically evaluate new protocols, technologies and medications. She has also worked with the pharmaceutical industry and biotech companies, evaluating new IVF medications and technologies in clinical trials.
One of Prof. Hull's primary research interests is endometriosis, and she is very proud that her formative papers investigating endometriosis have been well received internationally. She has also been instrumental in setting the global and national direction of endometriosis treatment and research, having participated in many international consensus groups on endometriosis and been invited to the 2018 Round Table by the Australian Minister of Health to formulate a National Action Plan for Endometriosis.
In recent years, Louise's research has focused on improving treatments for women with recurrent implantation failure and recurrent pregnancy loss. She written many publications; regularly presents at national and international meetings, and is frequently asked to comment on aspects of reproduction in the media. Louise has hosted workshops, webinars and led specialist interest groups on implantation across the Asia-Pacific Region.
A major advantage of working both in both medical and research settings, is that Professor Louise Hull can continuously improve the treatment she offers with her in-depth understanding of any new fertility advances. On many occasions she has been able to adopt relevant advances in fertility treatment, which have led to successful pregnancy outcomes for those under her care.
Gynaecologist (BMBS, MHA, FRANZCOG) / Fertility Specialist
Dr Tran Nguyen is a South Australian gynaecologist with a special interest in fertility and reproductive medicine. She completed her medical training at Flinders University and specialised in Obstetrics and Gynaecology (FRANZCOG) where she was recognised as an advanced laparoscopic surgeon. Dr Tran Nguyen is also a staff specialist at the Lyell McEwin Hospital and Modbury Hospital. She sees fertility and gynaecology patients in her private rooms at FBW Gynaecology Plus in Ashford. She has an academic appointment as an honorary clinical lecturer at the University of Adelaide and has experience establishing a surgical hospital, having completed a master's in health administration (MHA) in Houston, Texas. Dr Tran Nguyen is excited to be working with Professor Louise Hull. She is passionate about providing optimal care for South Australian couples desiring fertility and provides the support and expertise necessary for a successful fertility journey.
MD FRANZCOG CREI / Fertility Specialist
With more than 20 years' experience as a fertility specialist, Dr Jeffrey Persson believes genetics and endocrinology are the cornerstones of fertility treatment. He is also one of the few reproductive endocrinologists in Australia who can help men with azoospermia (zero sperm count), using the most sophisticated microscopic sperm extraction procedures. Jeffrey is also a leading expert in vasectomy reversal.
Dr Persson is focussed on attention to detail and applying his specialist expertise to develop the best approach to treatment. With research interests in genetics and male infertility, Jeffrey trained and worked in Amsterdam before obtaining his MD. In 1995, he received his Fellowship of the Royal Australian and New Zealand College of Obstetricians and Gynaecologists, and his Certificate in Reproductive Endocrinology and Infertility (CREI) with his thesis, 'Genetic aspects of reproductive failure'.
He lectures at Sydney University, is actively involved in clinical research, and has published on the genetic aspects of infertility.
Obstetrician & Gynaecologist / Clinical Researcher / Fertility Specialist

Dr Skubisz is an Obstetrician & Gynaecologist and Clinical Researcher with a passion for achieving optimal fertility and pregnancy outcomes through open-minded and caring medicine.
She completed medical school at The University of Melbourne and a PhD in Medicine through Monash University where she conducted clinical trials in novel treatment approaches to ectopic and molar pregnancies.
More recently she was a research fellow at SAHMRI where she helped investigate the role of folic acid and omega 3 supplementation in pregnancy.
She is an Honorary Senior Lecturer at the University of Adelaide and Steering Committee Member of the Australian Preterm Birth Prevention Alliance.
Dr Skubisz offers private Obstetric & Gynaecology care through her practice Glow Specialists at Ashford and is delighted to be able to assist couples in their fertility journeys together with the skilled and experienced team at Embrace Fertility.
Obstetrician & Gynaecologist / Fertility Specialist
Dr Mandana Master started her career as a pharmacist before completing a Bachelor of Medicine and Surgery through Flinders University.
She has obtained her specialist qualification in Obstetrics and Gynaecology with a special interest in fertility.
She is excited to be joining the highly skilled and passionate team at Embrace Fertility.
Dr Master is able to provide complete continuity of care for her patients as she also provides private obstetric care through Burnside Women's health. She also holds a public appointment at the Women's and Children's hospital.
Dr Master believes is it a privilege to be part of a couple's journey through fertility treatment and subsequent pregnancy care.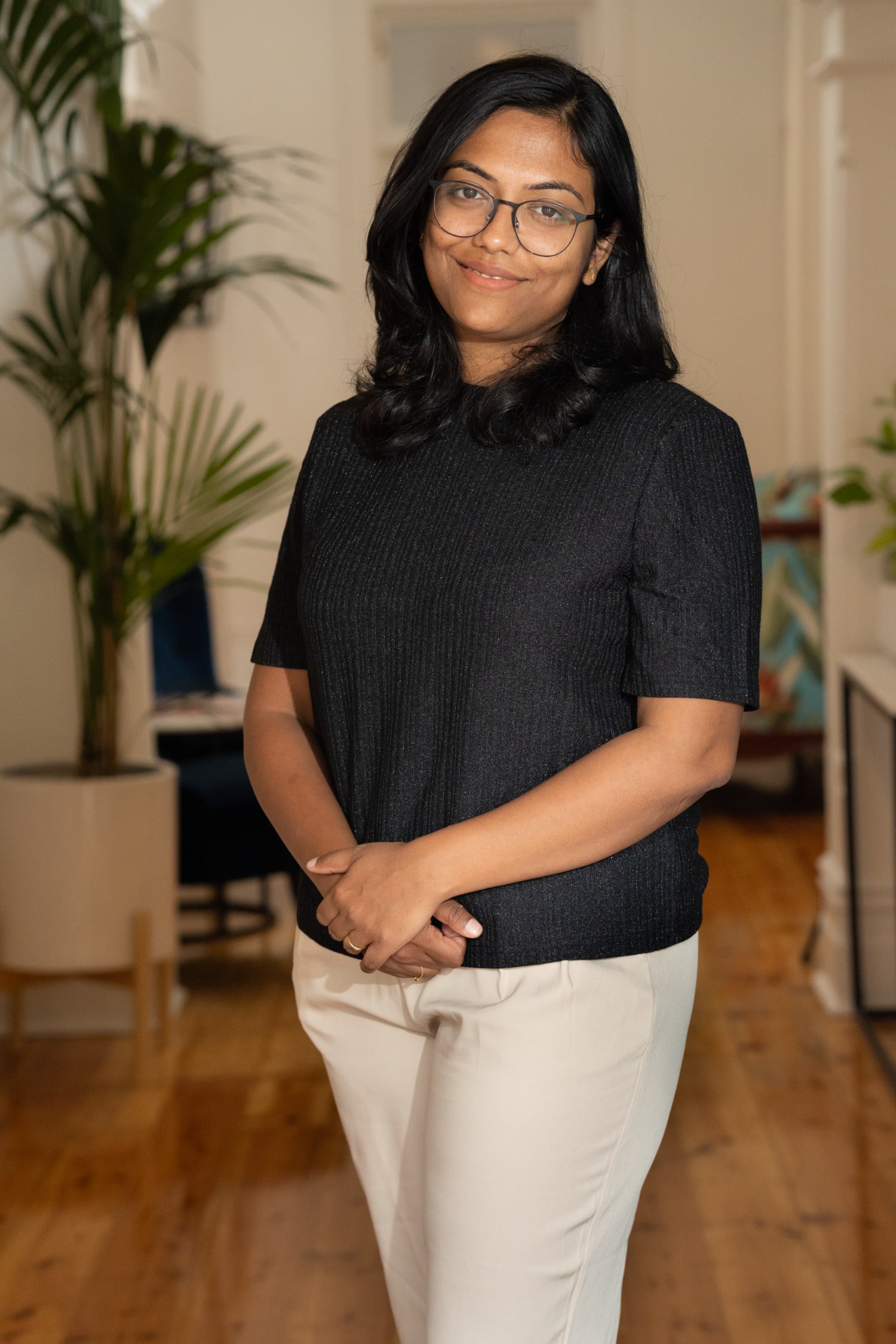 Gynaecologist / Fertility Specialist
Dr Rituparna (Ritu) Dutta is a South Australian Gynaecologist with a special interest in fertility.
Dr Dutta started her career in India where she practiced as a fertility specialist. Dr Dutta has since relocated to Adelaide and in 2022 completed her specialist training in Australia (FRANZCOG).
Dr Dutta is currently completing a Fellowship in Advanced Laparoscopic Surgery at Flinders Medical Centre and has recently commenced her three-year fellowship in Reproductive Endocrinology and Infertility (CREI).
Ritu has a special interest in Endometriosis and is passionate about providing care to people trying to conceive and assisting couples in their fertility journeys, together with the skilled and experienced team at Embrace Fertility.
We are honoured to have Dr Dutta as part of our team.
The Embrace Fertility practice is fortunate to be affiliated with the Adelaide REPROMED laboratory. Our doctors and nurses will manage your care from The Parade, Norwood, where you will have your consultation, scans and bloods. When you have fertility procedures that involve the laboratory (egg collection, embryo transfer or intrauterine insemination) our medical staff will accompany you and carry out the procedures at REPROMED's Dulwich clinic, where they will be done. The main reason we have chosen to work with REPROMED is the high quality of their laboratory services and their high pregnancy rates.
Embrace Fertility is contracted to REPROMED to use their IVF rates and results.
If you are looking for Embrace Fertility's IVF rates and results, please visit REPROMED's website.
Many people require special techniques and care with the way their eggs, sperm or embryos are handled. REPROMED provides state of the art embryology services such as DNA testing of sperm and high magnification selection of sperm as well as in-house genetic screening of embryos to confirm the correct number of chromosomes are present before transferring the embryo back to the woman.
We have had a great experience working with the embryologists at REPROMED Adelaide, who ring our patients with important information about their embryos and take the time to explain exactly what is going on in the lab as the embryos are growing. We think our patients at Embrace Fertility Adelaide benefit a lot from this affiliation, which has already helped many couples achieve a pregnancy under our care. We are confident in the results we achieve with REPROMED and are proud of our work with them.
If you are looking for specialist fertility care in Adelaide, we would be happy to discuss your set of circumstances – so please do get in touch.
CONTACT US
Phone: 1300 848 470
Fax: 08 8362 4996
Support line: 0424 434 993
Email:
reception@embracefertility.org

ADDRESS
Norwood SA 5067

(best parking on Gray street)
Teleconference
Please tell our reception staff if you prefer consultation via Zoom.
PRACTICE OFFICE HOURS
Mon: 9am – 8pm
Wed: 9am – 8pm
Tue – Fri: 9am – 5pm
Nurses available
Bloods & scans by appointment:
Mon, Wed & Fri
7.30am – 9.30am